Martin Georgiev conducting at Cadogan Hall, London
03.11.2012. Martin Georgiev conducted the opening concert of the 2nd London Festival of Bulgarian Culture (LFBC) at Cadogan Hall, London, with the Varna Symphony Orchestra, from Georgiev's native city of Varna (home to the oldest international ballet competition in the world and the oldest golden treasure ever found.) The concert, titled Bulgarian & British Symphonic Folk Songs featured a number of UK premieres by some of the most significant Bulgarian composers of the early and the late 20th Century, alongside Vaughan Williams' magnificent last cantata, Folksongs of the Four Seasons featuring the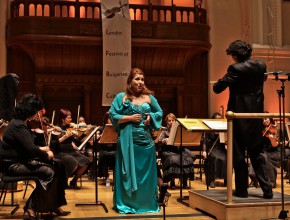 Paulina Voices and the Holst Choir from London – both choirs been taught and directed by Vaughn Williams himself in his lifetime. All compositions that Georgiev programmed in the concert were inspired by Folk Songs and Sacred Chants and Carols, from Bulgaria and Britain, drawing fascinating parallels. You could read more about the works and their composers in the concert programme (here), and below are some videos from the concert, with just a few words about each composer. London Festival of Bulgarian Culture was founded in 2011 by virtuoso violinist and producer Ivo Stankov who is the director and producer of the festival which aims to share the hidden treasures of Bulgarian culture with the British public.
More about the composers in the programme and their works: conductor, Martin Georgiev presents his choice of music,
with videos from the concert:
Pancho Vladigerov (1899-1978) had the first Berlin Philharmonic premiere of his work at the age of 20; appeared with that orchestra again a year later playing his own First Piano Concerto, and signed a publishing contract with Universal Edition only two years later. A composer who's works have been performed by the Vienna Philharmonic, LSO, Philadelphia Orchestra, Moscow Philharmonic, David Oystrakh, Alexis Weissenberg (who was also a piano pupil of Vladigerov's) and many others in the first half of the 20th Century, and about whom most non-Bulgarians have never heard before today, unfortunately, is something that should be provoking at least a curiosity, in my humble opinion. We performed one of his smaller-scale works, which was originally composed as a solo piano cycle in 1934 and later orchestrated by the composer himself – the
Shumen Miniatures
, named after the town of his childhood and youth – Shumen (which also happens to be in close vicinity to Varna :). Here follow videos with a few movements from that cycle, recorded at our LFBC concert.
Camera direction, editing and visual effects by Ogy Stoilov.
 Vassil Kazandjiev (b. 1934), one of the leading figures in Bulgarian music and amongst the most fascinating composers in Europe from the second hal
f of the 20th century, an outstanding artist who faced a strong totalitarian opposition to his avant-guard style of composition, but nevertheless toured the world with the Sofia Soloists chamber ensemble, a conductor who gave a stunning number of world premieres and recordings of new works, and taught not one or two rising stars on an international level (e.g. Yordan Kamdzhalov, Rossen Milanov, Rossen Gergov, and I wouldn't put myself amongst the stars, but amongst Kazandjiev's students – certainly

and a composer who created some of the most remarkable modern compositions that I know, and who was described by Shostakovich as "magnificent", is perhaps sadly unnoticed in the west today, seemingly because of the isolation that he had to endure as a composer from the other side of the iron curtain and not from one of the largest and most powerful states…
In this concert we performed Kazandjiev's Pictures from Bulgaria (1970), one of his most well known works, which exists in two versions: for chamber strings and percussion; and for symphony orchestra. We performed the former version in this concert. In the first video below is the opening piece of the cycle: Rila Monastery, inspired by this stronghold of spirit, soul and mind, founded in the 9th Century by St John (Ivan) of Rila, and home of the exuberant Rila Chant School. Elements of Rila chant are integrated within the intriguing and beautiful aleatoric textures in Kazandjiev's piece.
It was followed (in our performance) by Bagpipes (a curious similarity between the peoples of Bulgaria and Scotland :), Folksong (based on the famous Polegnala e Tudora), and Kukeri Dance.
Dimitar Nenov (1901-1953) was a remarkable composer and a prominent architect, founder of the Sofia Radio Orchestra, later Bulgarian National Radio Orchestra (1935), and of the music department of the Bulgarian National Radio as its first music curator/director. He faced persecution and ridicule during the Communist regime, and his heritage was subjected to deliberate obliteration after his early death. Nonetheless, his compositions are considered today amongst the most prominent masterpieces of Bulgarian music, while abroad he is still unknown, although he was educated in Germany, toured across Europe as a virtuoso pianist, and recorded in such capacity in Germany and Hungary.
Five Rhodope Folksongs, (named after the Southern-Bulgarian Rhodope Mountains) are not amongst Nenov's well known works. He created them without the pretence of composing new pieces. Rather, he considered them as arrangements of original folk songs, designated for the recently founded by him radio orchestra and its broadcasts. Nonetheless, these very special compositions are stunningly beautiful, and the fact they were written in 1937-8 makes them particularly interesting, from a stylistic point of view. Here follow a couple of videos.
Namely between Nenov's and Vaughan Williams' admirably lucid approaches to folksong in their works featuring in this concert I find the most fascinating parallels, which however I would not elabor
ate further in writing, but rather leave them to your contemplation. I offer below 5 videos from our performance of Ralph Vaughan Williams' Folk Songs of the Four Seasons – the last cantata of the great master which makes evident that "less is more" is an approach to composition that can be utterly impressive in the hands of a few, but the wisest. I cannot miss to credit choirmasters Patricia Williams and Heidi Peggler; all choirgirls, the two schools and their Heads of Music, and everyone who supported them for their remarkable contribution to the concert. (With apologies for mentioning again, more information is available in the concert programme here).